AeroQuiz
Quiz Nr. 4 - answers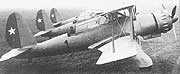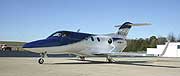 Question Nr. 2: Honda HondaJet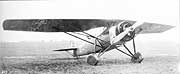 Bonus: ANBO-IV

Bonus question of Quiz Nr. 4 has to be probably Honda HondaJet. Few of participants have mistaken it with Raytheon Premier. ANBO-IV have been known to everyone.
Arado Ar-95B - Arado Ar-95 initially reconnaissance and light torpedo-bomber floatplane, later used as trainer - version Ar-95B has wheeled undercarriage. Aircrafts on photo were used by Chile Air Force, which receive 3 floatplanes Ar-95A and 3 Ar-95B with wheeled undercarriage in 1939.
Honda HondaJet - two-engine six-place business airplane. It is characterised by unusually installed engines Honda HF118 at pylons above wings.
ANBO-IV - Lithuanian light bomber and reconnaissance airplane, constructed in early 30s of 20th century. Prototype on photo was powered by Armstrong Siddeley "Panther" IIA engine.