AeroQuiz
Quiz No. 32 - answers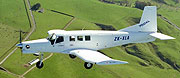 Question No. 2: PAC 750XL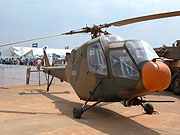 Question No. 3: Atlas (Denel) XH-1 Alpha

Bonus: Mráz Zobor I

Full amount of points (6) in 32nd round of Quiz achieved seven participants . Congratulations.
Average mark of difficulty according to your valuation was 3,875 (maximum 5 - very difficult).
Tupolev Tu-134UBL - Russian trainer aircraft - modified liner Tu-134 for training crew of bombers Tu-22M. First such modified Tu-134 flew in January 1981.
Pacific Aerospace Corporation PAC 750XL - utility aircraft, combing the engine and wings of the PAC Cresco with a new large fuselage and modified tail. It's powered by a 750 hp (560 kW) PT6A turboprop. Aircraft made its maiden flight in 2001.
Atlas (Denel) XH-1 Alpha - South African experimental tandem-seat attack helicopter based on the Alouette III. Powered by engine Turbomeca "Artouste" IIIB with performance of 425 kW.
Mráz Zobor I - sport two-seat aircraft developed from type Be-555 Superbibi. Powered by invert four-cylinder Walter Minor 4 with performance of 70 kW. In 1943 totally 10 of it were built in Nitra, Slovakia.