AeroQuiz
Quiz Nr. 2 - answers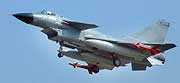 Question Nr. 2: Chengdu (CAC) J-10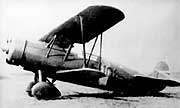 Bonus: Fokker C.V.D./U Furrikane

Bonus question of Quiz Nr. 2 - Furricane - was little bit harder for all, except Jean Marie, who's surprised me with his extremely quick and good answers.
Praga E-210 - prototype of two-engine four-place tourist and light passenger airplane constructed by Ing. Jaroslav Šlechta. First prototype flew on 13. 2. 1937. After German occupation of Czech and Moravia in WWII aircraft exams continued under German supervision.
Chengdu (CAC) J-10 - new Chinesse fighter based on Israelian IAE Lavi.
Fokker C.V.D/U Furrikane - improved version of Fokkera C.V.D. - trainer and reconnaissance aircraft - produced in Sóstó, Hungary under licence. Airplane has new fuselage, third seat has been put into the observer's place and the lower part of the fuselage has been adapted for the delivery materials. Furrikane was used as "flying workshop". Nick name was based on hungarian word "furikázni" - to commute and to deliver things.