AeroQuiz
Quiz No. 26 - answers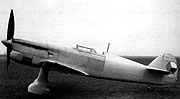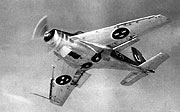 Question No. 2: SAAB 202 Safir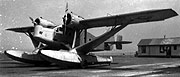 Question No. 3: Bellanca 77-320

Bonus: SIAI-Marchetti SV-20

Again a bit easy quiz :-) Half of participants answers all questions correctly. Congratulations!
Average mark of difficulty according to your valuation was 3,57 (maximum 5 - very difficult).
Avia B-35 - prototype of Czechoslovak fighter airplane. First flight of prototype 28 September 1938. Airplane was built in series with with retractable landing gear as Avia B 135.
SAAB 202 Safir - Swedish test bed airplane. Fuselage of trainer SAAB 91 was powered by more powerful engine Lycoming 0-435-A and fitted with scaled down wings of the SAAB 32 Lansen in 1950.
Bellanca 77-320 - version of bomber 77-140 with floats. Only one was built in 1934. Used in Colombia.
SIAI-Marchetti SV-20A - mock-up of Italian 14-seat twin engine high-speed helicopter. Version SV-20C has a three-blade variable pitch pusher propeller driven by the right engine. Project was cancelled in 1973.