AeroQuiz
Quiz Nr. 12 - answers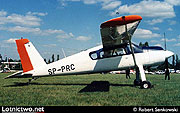 Question Nr. 2: PZL-105L Flaming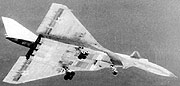 Question Nr. 3: Sukhoj T-4

Bonus: Harlow PC-5

This was the last but one quiz of this year. Average sign of difficulty according to your valuation was 3,5 (maximum 5 - very difficult). New competitor from Poland - Andrzej Krusinski - obtain on first try 6 points. Congratulations.
Beriev Be-103 - Russian light multipurpose amphibia built in 1997 by designing bureau of G. M. Beriev. Cabin has place for pilot and five passengers.
PZL-105L Flaming - six place light multipurpose aircraft built in Polish company PZL-Okecie. Was constructed as successor of type PZL-104 Wilga 35/80.
Sukhoj T-4 - prototype of soviet two-seater strategic bomber. First flight took place 22th August 1977.
Harlow PC-5 - trainer airplane constructed in USA and built in licence by Indian company. Airplane has four place cabin, full metallic construction, with retractable landing gears. First flight of prototype in July 1939.