Aviation Museum Košice
Photogallery
Let Z-37 "Čmelák" (Bumble-Bee)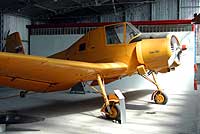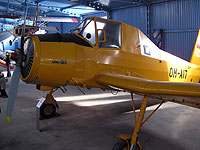 Let Z-37
photo: Kamil Pankuch
Agricultural airplane used for crop-dusting has been made in Czechoslovakia from 1966 to 1977.
Low-wing aircraft with metal frame and duraluminium sheet, partially with canvas. It has STOL capabilities. Aircraft is powered by radial nine-cylinder engine M-462RF (czechoslovak version of the soviet engine Ivtsenko AI-14RF) with performance of 206/232 kW (280/315 hp).
Application tank has volume of 700 l or 600 kg of chemicals.
Specification of Z-37:

 wingspan:
12,22 m
 length:
8,55 m
 wing area:
23,80 m2
 weight:
 
 - empty
985 kg
 - maximal take-off
1850 kg
 engine:
M-462RF
 performance:
232 kW (315 HP)
 maximal speed:
216 km/h
 range:
640 km
 service ceiling:
4050 m

Versions:
Z-37A-2 (Z-37-2) - two-place version for training pilots
Z-37A - has advanced anticorrosive protection and new engine cooling blinds. Production started in 1972.
Z-37C - version with six-cylinder engine Continental IO-520-D with performance of 162 kW (220 hp). Only one was made.
© Kamil Pankuch 2004-2007
airmuseum.kosice at gmail.com