Aviation Museum in Košice
PhotoGallery
Lockheed F-104S-ASA-M Starfighter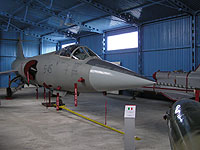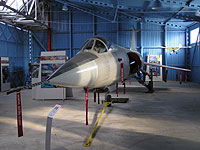 Lockheed F-104S ASA-M Starfighter
(M.M. 6870/5-45)
photo: Kamil Pankuch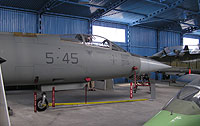 Lockheed F-104S ASA-M Starfighter
(M.M. 6870/5-45)
photo: Kamil Pankuch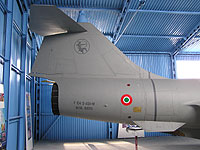 Lockheed F-104S ASA-M Starfighter
(M.M. 6870/5-45)
photo: Kamil Pankuch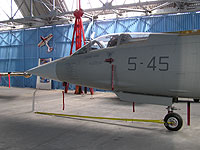 Lockheed F-104S ASA-M Starfighter
(M.M. 6870/5-45)
photo: Kamil Pankuch
Lockheed F-104S ASA-M is latest version of fighter F-104 - first flight of prototype XF-104 took place in February 28, 1954.
F-104 was first serially produced fighter with ability to fly M=2 speed. Airplane F-104 holds several records:
1951 - W. W. Irving, maximal speed of fight - 2259 km/h,
1959 - J. B. Jordan - maximal height of flight - 31,515 km,
1963 - Jacqueline Cochran - maximal speed - 2299 km/h.
F-104S (S - Sparrow) version was created in 1966 for Italian Air Force - later made under licence in Italy by FIAT company. First flight of Starfighter Made in Italy took place in December 30, 1968. Total amount of F-104S built in Italy until 1979 is 246, 206 for Italian Air Force (Aeronautica Militare) and 40 for Turkey.
In 1981 started program ASA (Aggiornamento Sistema d'Arma - updated weapons system) - flight tests started in 1983. Main changes were replacement of radar to new FIAR R21G/M1 Setter with improved range, new avionics and ability to carry the newest versions of missiles. Because of miniaturisation it was possible to install again cannon Vulcan, which F-104S didn't have. Italian Air Force started use first F-104S ASA in 1986.
From 1998 F-104S ASA were again modified to improved version ASA-M (Modificato). Radio- and navigation equipment were upgraded. Place for cannon was again filled - version ASA-M hasn't cannon. First F-104S ASA-M were delivered to Italian Air Force 23° Gruppo (squadron), 5° Stormo (wing) in December 1997.
Aircraft in museum's display was used by 23° Gruppo, 5° Stormo. It is marked ASA-M, but cockpit equipment correspond to F-104S ASA version.
Specifications
Lockheed F-104S ASA-M Starfighter

 wingspan:
6,68 m
 length:
16,69 m
 height:
4,11 m
 wing area:
18,22 m2
 weight:
 
 - empty aircraft
6 760 kg
 - normal take-off
9 840 kg
 - maximal take-off
14 060 kg
 maximum external load:
3 400 kg
 maximal volume of fuel::
3 392 l + 2 770 l in external tanks
 engine:
General Electric (FIAT)
J79-GE-19
 maximal thrust:
 - without afterburning
52,0 kN
 - with afterburning
79,62 kN
  maximal speed:
 
 - at sea level
M=1,2
 - in high altitude
2400 km/h M=2,2
 climbing:
280 m/s at sea level
 range:
2620 km
 ceiling:
17 680 m