Aviation Museum in Košice
SAAB AJSF 37 Viggen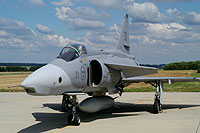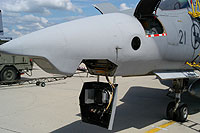 SAAB AJSF 37 Viggen (37951 F21/50)
photo: Melvin Jansen, Holandsko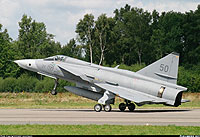 SAAB AJSF 37 Viggen (37951 F21/50)
photo: Kristof Jonckheere, Belgicko
www.airliners.net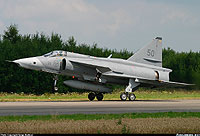 SAAB AJSF 37 Viggen (37951 F21/50)
photo: Sven De Bevere, Belgicko
www.airliners.net
New beauty is in collection of Aviation museum in Kosice from Saturday 11th September - Swedish multipurpose fighter SAAB AJSF 37 Viggen. Airplane is another from so called Presidential gifts.
Viggen (Thunderbolt) is airplane unusual by its double delta wing with canard wings and thrust reverser - the combination of this with an afterburner is unique. Together with wheel-braking by units with an anti-skid system airplane can stop after landing run of only 450 meters. The prototype performed its initial flight on 8th February 1967. There were built 329 Viggens in five major versions. Airplane given to Aviation museum is reconnaissance version - it has no radar and carry total seven cameras, including an infrared linescanner, and a data recording unit. From 1977 to 1980 total of 28 machines (serial numbers 37950-37977) of this version (SF) were made. Most of them were modified to AJSF version.
SAAB AJSF 37 with serial number 37951 belonged to wing (flottiljer) F21 of Swedish Air Force (Flygvapen) and carry code number 50 on tail fin. It's last flight took place 7th September 2004, when it arrived to Kosice, Slovakia. (It's so far second plane, that arrived to Museum on its own - first one was Mirage IIIRS Swiss Air Force). After landing its engine was removed - engine Volvo Flygmotor RM8B (Reaktionsmotor 8) is Swedish version of Pratt & Whitney JT-8D-22 . This engine, originally used is civil liners such Boeing 727 and Douglas DC-9, was re-designed in Sweden for super-sonic use. Afterburner and thrust reverser are designed in Sweden too.
ASFJ 37 is improved modification of SF 37 (F - Fotospaning - photo reconnaissance) - has seven photo cameras in nose section. Three of them are type SKA 24C (SKA - Seriekamera) with a focal length of 120 mm. They are used in low-altitude reconaissance missions. And they are mounted to give a panorama view from horizon to horizon. Two are type SKA 31 with 600 mm lens - used during missions in high altitude. One camera type SKA 24 with lens 57 mm is used for general views. In adition there is IR-camera type VKA 702 (VKA - Värmekamera). During night missions reconnaissance pods are carried on the pylons under the engine inlets. On the left side pod MSK (Mörkerspaningskapsel) with three cameras SKA 34 with 750 mm lens taking photos on IR sensitive film and electronic IR flashes. On right side is possible to carry complementary pod with IR flashes. AJSF 37 Viggen can carry for self defence up to six missiles Rb24/Rb 24J Sidewinder or four Rb 74 (AIM-9L) Sidewinder, or another special defence pods.
Specifications of SAAB AJSF37 Viggen:

wingspan:
10,60 m
length:
16,40 m
height:
5,93 m
wing area (including canards):
52,20 m2
take-off length:
400 m
landing length:
450 m
weight:
- empty
9500 kg
- maximal take-off
17000 kg
engine:
Volvo Flygmotor RM8B
Swedish version of Pratt & Whitney JT-8D-22
maximal thrust:
- without afterburning
72,06 kN
- with aterburning
125,04 kN
maximal speed:
2195 km/h (Mach 2,1)
service ceiling:
18000 m
Photos kindly made available by Melvin Jansen from Netherlands, Kristof Jonckheere and Sven De Bevere from Belgium.
© Kamil Pankuch 2004-2007
airmuseum.kosice at gmail.com