Aviation museum Košicie
Photogallery
Northrop NF-5A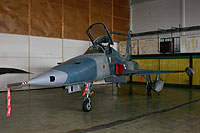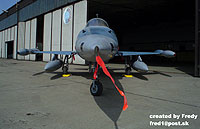 Northrop NF-5A
[800 x 600 px]
photo: Fred Ťukot, Slovakia
Single place fighter and bomber constructed in USA. Exhibit in museum (serial 3014) belonged to Greek Air Force (EPA - Elliniki Polemiki Aeroporia) was made under licence in Canada by Canadair in 1970.
Canadair company produced totally 75 NF-5A for Royal Netherlands Air Force (Koninklijke Luchtmacht - KLu). Aircraft on display was used by KLu from 1971 to 1990. In 1991 Greece bought in Netherlands 10 NF-5A together with two two-seat NF-5B.They were assign to 349. wing (Mira) in Tessaloniki. NF-5A serial 3014 was withdraw from service in May 1997 after completing 4,000 hours of flight time.
Aviation museum in Košice received aircraft 14th March 2004 as gift from President of Greece.
Detail photos of NF-5A (3014) in Aviation museum exhibiton - walkaround.
Specification of NF-5A:

 wingspan:
7,85 m
 length:
14,39 m
 height:
3,95 m
 wing area:
15,79 m2
 weight:
 
 - empty
3667 kg
 - normal take-off
6197 kg
 - maximal take-off
9374 kg
 engine:
Orenda J85-CAN-15
 maximal thrust with afterburning:
2 x 19,13 kN
 maximal speed:
 
 - at sea level
1176 km/h
 - in altitude 11,000 m
1490 km/h
 range:
2600 km
 service ceiling:
15390 m
Photo kindly made available by Tom Dolders from Belgium and Fred Ťukot from Slovakia.