Aviation Museum Košice
Photogallery
Dassault Mirage IIIRS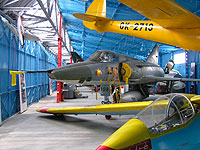 Reconnaissance airplane Dassault Mirage IIIRS Swiss Air Force. Mirage IIIRS is reconnaissance version of Mirage IIIE built for Switzerland.
Swiss Air Force used total of 18 reconnaissance airplanes Mirage IIIRS in Wing 10 - Fliegerstaffel 10 (FlSt 10). Nowadays all of them are withdraw from service. Last flight of Swiss Mirage IIIRS was made by plane with registration number R-2118 on 17th December 2003.
Airplanes are equipped with four photo cameras Oméra with focal length from 44 to 600 mm, which could be mounted in depends on type of reconnaissance mission. Photo cameras are in nose part of plane instead radar Hughes TARAN 18, used in Mirage IIIS. For night missions planes were equipped with IR pod LIRAS (Luftgestützes Infra Rot Aufklärungs System), carried on central fuselage pylon.
Mirage with registration number R-2108 landed on Košice airport 23th October 2003. It was piloted by commander of FlSt 10 major Markus Zürcher. Flight from Dübendorf, Switzerland to Košice, Slovakia lasted 71 minute.
Specifications of Dassault Mirage IIIRS:

wingspan:
8,222 m
length:
15,48 m
height:
4,5 m
wing area:
34,80 m2
weight:
- empty
6535 kg
- maximal take-off
11400 kg
engine:
SNECMA ATAR 09 C-3
maximal thrust with afterburning:
60,8 kN
maximal speed:
2400 km/h
climbing:
66 m/s
range:
1200 km
service ceiling:
18000 m