Aviation museum in Košice
Photogallery
HC-102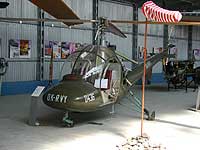 Light bi-place helicopter made in Czechoslovakia. HC-102 version differ from HC-2 with more powerful engine M-110H and many improvements. The first flight of HC-102 took place in February 1961.
Prototype of helicopter HC-2 "Heli Baby" was finished in 1954. Initially was powered by engine Praga D with performance of 60 kW (82 hp). Helicopter has full-metal framework - made from duraluminium, rotor blade were made from wood covered with laminate. Bi-place cockpit has two complete controls. Moravan company built complete 17 HC-2. 15 of them were later modified by installing engine Avia M-100H - horizontally opposed six cylinder engine of 86 kW (117 hp).
Helicopter HC-102 was developed by Moravan company. There were built 21 units. HC-102 were used by air force under designation VR-2 and later were given to Svazarm - Association for Cooperation with the Army - to training pilots.
Specification of HC-102:

rotor diameter:
8,8 m
length:
10,46 m
weight:
 
- empty helicopter
468 kg
- normal take-off
681 kg
engine:
Avia M-110H
engine performance:
86 kW (117 hp)
maximal speed:
133 km/h
cruising speed:
120 km/h
range:
175 km
service ceiling:
2750 m
© Kamil Pankuch 2004-2007
airmuseum.kosice at gmail.com