Aviation Museum Košice
Photogallery
Avia BH-11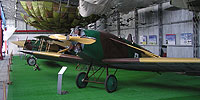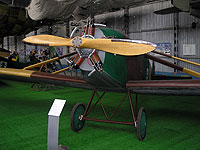 Avia BH-11
photo: Kamil Pankuch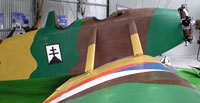 Avia BH-11 - 3rd Air Regiment emblem
photo: Juraj Korpa
Czechoslovak trainer and courier plane produced in several versions from 1924 to 1928.
Two/seat trainer BH-9 and BH-11 were developed from low-wing sport airplane Avia BH-5. BH-11 was also designated as B-11 in army. First flight of prototype June 17, 1924. Airplanes were equipped with double controls with ability to turn off student's one.
Plane in museum's exhibition is replica and has Czechoslovak Air Force insignia, which was used between 1920 and 1926. From 1924 Czechoslovak airplanes were marked also with regiment emblem. Avia BH-11 in museum has emblem of 3rd Air Regiment located in Nitra (now in Slovakia).
Specification of BH-11:

 wingspan:
9,72 m
 length:
6,64 m
 wing area:
13,60 m2
 weight:
 - empty
351 kg
 - take off
579 kg
 engine:
WALTER NZ 60
 performance:
40 kW
 maximal speed:
155 km/h
 range:
600 km
 service ceiling:
4000 m
© Kamil Pankuch 2004-2007
airmuseum.kosice at gmail.com